T9847C Law Knows No Mercy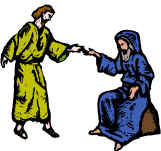 Jesus healed a man on the Sabbath, but this good deed angered the Pharisee because it "violated" the Sabbath law. They believed the law knew no mercy.
Today the same spirit of the Pharisees runs the States. In the name of their law, they persecute the followers of Jesus today, just as they persecuted Jesus 2,000 years ago. They use their law to keep people from entering the Kingdom of Heaven.
Here's what they did to Blanche Row, an elderly lady from Southern California. Blanche loved the Kingdom of Heaven. She loved it so much that she put Kingdom of Heaven license plates on her car. Each day she drove to a certain restaurant and parked her car in front of the window where people could see it. As she ate her meal, she talked to the other diners about the Kingdom. She loved preaching.
But one day the police stopped her. They shoved Blanche out of her car and said, "You cannot be like this Blanche Row! We are taking away your Kingdom of Heaven plates. You cannot believe in eternal life."
They dumped this 84-year-old woman on the sidewalk and towed her car away. She was left stranded and was forced to hobble around on her cane. This is how the kingdoms of this world rewarded an elderly woman for believing in the Kingdom of Heaven. Yes, the law knows no mercy.